Rack Enclosure Cabinets
Brea Networks offers enclosed server rack cabinets with locking doors and side panels. These cabinets are ideal for applications that require physical equipment security at the rack level, instead of at the room level. These racks come with ventilated doors that allow plenty of airflow from front to back. These racks are ideal for server rooms and high-density data centers.
These enclosed racks are perfect for hotter, heavier equipment and applications with higher wattages. Brea Networks offers plenty of options to choose from including front doors with shatter-resistant clear acrylic windows, construction for harsh environments (up to NEMA IP54 standards), and seismic ratings for earthquake zones.
SmartRack Enclosures
Brea Networks offers SmartRack enclosures that are designed for high-density server and networking applications in IT environments with provisions to integrate cooling, power distribution, and cable management.
SmartRack enclosures ship fully assembled! They also come with tool-less mounting slots, so they can be rapidly installed and deployed quickly. The SmartRack also includes adjustable mounting rails so that you can view it easily and eliminate time-consuming measurements. The doors and panels are lightweight and give you convenient access.
The SmartRack enclosures are able to hold up to 3,000 pounds and are able to support cooling, power distribution, cable management, and monitoring features in order to keep your services working non-stop.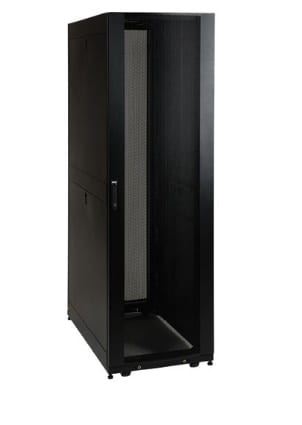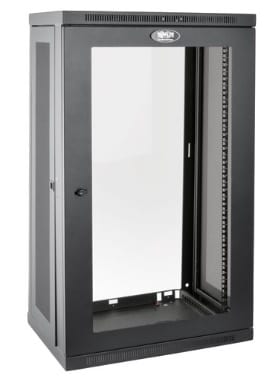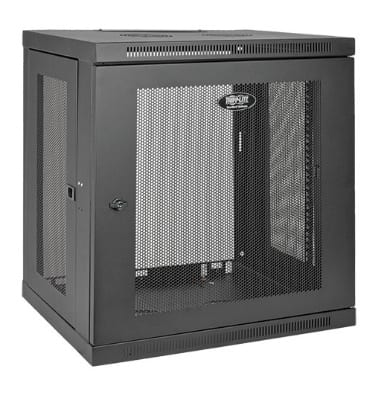 Network Rack Features
Ships fully assembled for rapid deployment and roll into place on heavy-duty pre-installed casters.
Front and rear sets of equipment mounting rails adjust in 1/4″ increments. Adjustment is quick and convenient. The easy-view depth index ensures consistent rail placement without requiring time-consuming measurements.
Toolless accessory mounting rails (2 rails per enclosure) include slots for quick installation of compatible PDUs and vertical cable managers. Mounting slots are arranged in an industry-standard pattern compatible with a wide variety of accessories. Each rail can accommodate two vertical PDUs or cable managers side-by-side (four items per enclosure).
Enclosure includes mounting hardware of 50 pieces of M6 cage nuts and 50 pieces of M6 screws.
Textured powder coat finish for tough resistance to environmental concerns such as deployment in warehouses.
Massive front to rear ventilation capacity. 65+% open space in door perforation pattern meets or exceeds server manufacturer requirements.
Maximum usable internal depth of 37 inches/94 cm (front to rear rail).
Weight ratings of 3000 lb stationary and 2250 lb rolling.
Front door is locking, reversible and removable.
Rear doors are locking and reversible. Split rear door design reduces clearance requirements for service entry allowing the enclosure to be placed closer to a wall.
Locking removable side panels are 'half size' to make them smaller and lighter improving ease of installation and servicing. Two side panels per side (4 panels total). Side panels are keyed alike to the front and rear doors.
Built in baying tabs allow enclosures to be combined securely in rows. Center-to-center width can be set at 600mm or 24″ to match standard data center floor tiles.
Casters are pre-installed and support a rolling load capacity of 2250 lbs, allowing the enclosures to be pre-configured and rolled to the final installation location. Casters are removable.
Leveling feet extend to allow enclosure to be positioned on uneven floors. Levelers are removable.
Compact design allows the enclosure to roll through standard height commercial doorways.
Even More Features:
Convenient grounding system. All components are grounded to the enclosure frame which includes multiple connections for facility ground. Front and rear doors include quick-release ground wires.
Open bottom for cable access.
Top panel has generous cable access holes. Panel can be removed toollessly in seconds without having to disconnect cables first.
Included stabilizing brackets are used for shipment and can be reattached at the bottom of the enclosure frame on the inside or outside of the rack.
Meets all enclosure requirements towards PCI DSS (Payment Card Industry Data Security Standard) Compliance
Compatibility with airflow optimization accessories as well as cable management accessories.
Contact Us
Send us an email and one of our specialist will get back to you as soon as possible