WEBROOT® DNS PROTECTION
Secure your DNS connection against cyber attacks, get total visibility into web usage, and enforce acceptable web usage policies to reduce risk.
Problem
Your DNS connection is involved in every aspect of internet usage, but it's highly vulnerable to cyber attacks. Not only do businesses need to secure their networks, endpoints, and users against the risks that come with uncontrolled web usage—they must also protect the connection itself.
Solution
Webroot® DNS Protection offers a quick, straightforward, and highly effective way to secure the DNS protocol connection against cyber attacks. With advanced reporting on more than 80 URL categories, admins gain greater visibility than ever, reduce risk, and can tailor usage policies to their organization's unique needs.
Skip the hardware and software
This fully cloud-based, secure, and resilient service takes just minutes to set up. Protect your DNS connection, network, and users from cyber attacks.
Block threats at the domain level
Over 80 URL categories give you granular, policy-based control to automatically block dangerous and questionable sites (such as Malware and Adult) or unwanted sites (such as streaming media).
Get detailed reports on-demand
Drill down into reports on all threats the business would've been susceptible to without DNS Protection in place, and get full visibility into risk and usage.
Apply leading web classification
Webroot® threat intelligence backs all Webroot products, and is trusted by over 65 leading technology vendors to enhance their services.
Enable policies by group, device, IP
Control internet usage for your users using pre-configured and custom policies by group, device or network.
Reduce costs relating to infections
DNS Protection stops up to 90% of web-borne malware at the domain layer, so it never reaches your network. It saves you time and money, while also minimizing unproductive web usage.
Built for the Internet of Tomorrow
Our DNS agent was built for the future, supporting IPv6, the next generation of internet protocol. This means you can protect your users on modern networks, like public hotspots, for long into the future. As adoption of the new protocol continues to rise, it becomes increasingly essential your network protection can handle this type of traffic.
WiFi Hotspot Use Case
Secure WiFi hotspots with DNS Protection for Guest WiFi to keep your guests, customers, and reputation safe.
Wifi for Guests
Webroot® DNS Protection is a fast, easy-to-deploy DNS layer security solution that protects your WiFi connection and restricts access to malicious, suspicious, or otherwise unwanted websites—ranging from Adult and Gambling to Shopping, Streaming, and more. With DNS Protection for Guest WiFi, you can secure the users and devices that connect to your network, as well as your business and reputation.
MOBILE SECURITY FOR BUSINESS PROTECTION
Set up, configure, and deploy to your company's mobile devices without on-premises hardware or software.
Problem
Establishing mobile security for business is an increasingly tricky task. Device portability makes them targets for physical theft, and malicious apps continue to proliferate as a delivery method for malware designed to steal login credentials and other valuable data. As more and more employees bring their own devices to work, maintaining control over mobile device security is more important, and challenging, than ever.
Solution
Webroot® Mobile Protection automatically scans apps and files for malware, scans URLs to block fraudulent websites, and detects phishing sites in real time, drastically reducing the opportunity for the types of user error that are typically behind business security breaches.
Stop malicious apps
Block mobile threats before they infect your business' phones or tablets. Even reports reputation of downloaded apps.
Always up to date
Keep users safe from new threats in real time, all the time, with Webroot's cloud data centers.
Secure web browsing
Protect employee identities and corporate information from malicious sites and downloads.
Deploys in seconds
Deploy over the air for Android® and iOS® devices.
Lost device protection
Locate and lock lost or stolen devices and block unwanted callers and SMS.
Online management
Eliminate the need for an on-premises solution. Webroot offers user, device, and group management.
Enforce company policies
Require employees to use a lock passcode to protect sensitive corporate email and information.
High performance
Save bandwidth and battery life. Small device footprint and ultra-fast scans mean minimal power consumption.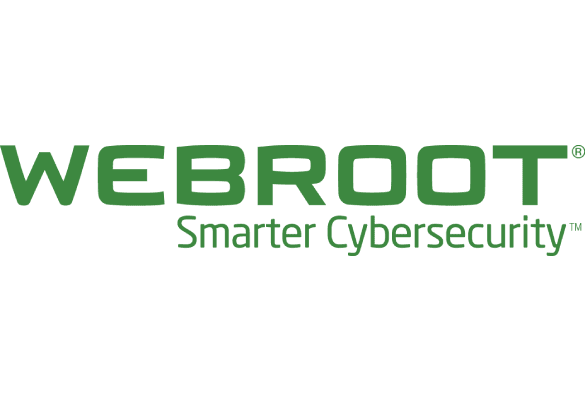 WEBROOT® SECURITY AWARENESS TRAINING
Cybercriminals target end users. Ongoing cybersecurity education and training for end users is a must for businesses to stay secure.
WEBROOT® BUSINESS ENDPOINT PROTECTION
To secure your business, you need endpoint protection that's stronger and smarter than traditional business antivirus.
Mobile device management
Keep your company data secure with device management that allows you to easily locate devices, require passwords, and erase data if needed.
24/7 live support
Call or email Google support to get help from a live person whenever you need it. You can also find fast answers online in our help center.
Easy data migration
Use our migration tools and services to move your organization's important data to G Suite from your current storage solutions.
Email @yourcompany.com
Send professional email from your business web address (you@yourcompany.com) and create group mailing lists like sales@yourcompany.com.
Advanced admin controls
Add and remove users, set up groups, and add security options like 2-step verification and single-sign-on (SSO), all from one centralized admin console.
All the storage you need
G Suite's Basic edition includes 30GB of online storage per user. For unlimited storage, upgrade to the Business or Enterprise edition.
Contact Us
Send us an email and one of our specialist will get back to you as soon as possible