Commercial audio for your restaurant, retail, or office location is our specialty. We use only the best commercial grate equipment. We are a full distributor of Bose audio equipment, we can deliver cutting edge quality commercial audio solutions. We are also partnered with mood media to deliver high quality commercial free music solutions for our business customers.
Bose® ControlSpace SP-24 Sound Processor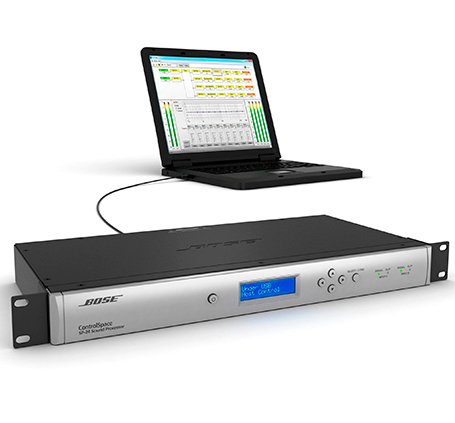 The Bose® ControlSpace SP-24 sound processor is an easy-to-use digital signal processor for loudspeaker control. It comes with both small scale fixed installations, as well as portable PA systems. This system offers front panel setup, for when Bose® loudspeakers are being utilized, as well as the SP-24 Editor software for full control of your sound with any loudspeaker.
For basic operations, the simple front panel interface is incredibly easy to use. For full access to all signal processing settings, the intuitive SP-24 Editor software is also readily available. Standard XLR connectors are included, so you are able to easily connect to source devices, powered loudspeakers, and amplifiers.
With the SP-24 Editor software you also have real-time control and the ability to program and store custom scenes. The SP-24 Editor software also provides access to all signal processing functions. Any scenes created with the Editor software can be stored in the processor hardware using a USB connection, or saved locally to a PC.
The front panel LCD menus are simplified in order to make it easier to gain and delay parameters, select preprogrammed scenes, or swiftly access Bose® loudspeaker presets. The front panel also offers basic gain/delay operations and preset/scene recall. The software also provides access to all signal routing and signal processing settings even if you're offline!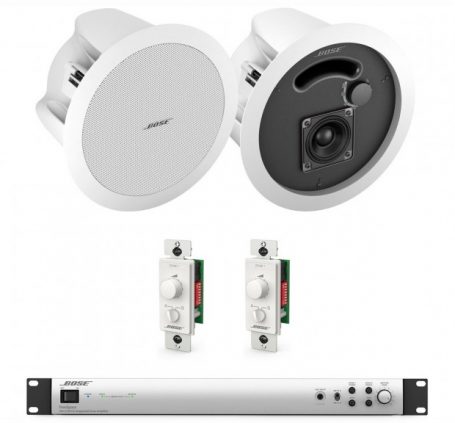 With the Bose® Hotel Sound System, any audio source (iPod, iPad, laptop, XM Radio, CD Player, etc.) can be used. The system is able to cover 5,000 square feet, but can be easily expanded for more coverage and control.
The "entry-level" member of the DS loudspeaker family is the Bose® FreeSpace® DS 16F – it is a flush-mount, full-range, high-performance loudspeaker designed for speech reproduction and background music. It features a frequency range down to 80 Hz and a wide 140° conical pattern.
The Bose® FreeSpace® IZA 2120-HZ integrated zone amplifier is great for paging applications and background/foreground music. Its audio is elevated when using FreeSpace® loudspeakers. Optimized for commercial applications, FreeSpace IZA amplifiers feature:
Opti-voice® paging for clear speech intelligibility and seamless transitions.
Selectable Loudspeaker EQ to enrich audio quality.
Dynamic EQ that ensures full and balanced music at any volume level.
The Bose® Control Center CC-2 zone controllers provide A/B source selection for both FreeSpace® and ControlSpace® products.
Bose® Retail Store Sound System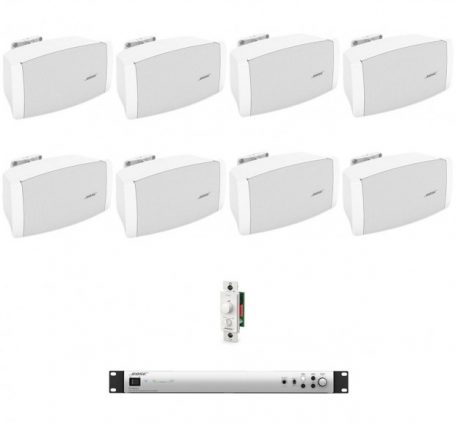 The Bose® Retail Store Sound System enhances customers' shopping experiences and is ideal for small to medium coverage areas – but can easily be expanded over separate, larger zones.
The most versatile member of the DS loudspeaker family is the Bose® FreeSpace DS 40SE by featuring a frequency range down to 70 Hz and 125° x 125° coverage pattern. It is a full-range, high-performance surface mount loudspeaker designed for background speech reproduction and music!
Bose® FreeSpace Loudspeakers are engineered with an advanced composite driver and a heavy-duty enclosure to ensure that music is heard with depth and fullness in both indoor and outdoor areas, such as hotel atriums, themed parks, resort pool areas, outdoor dining rooms, and retail venues.
Contact Us
Send us an email and one of our specialist will get back to you as soon as possible